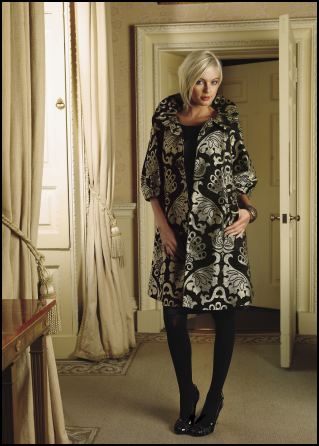 This is a very important season for contrasting texture effects in clothing.  Look out for encrusted jewel trimmings and also beautiful gold Damask weave decoration.
In the past decade texture in fashion has grown apace, ever since the underlying trend for eclectic ethnic started.  It brought appliqué and traditional folkloric elements into the design of the fabric and construction of our clothes.  This fascination for embellishment has led to a revived interest in opulent luxury fabrics.
For autumn 2007/Winter 2008 texture is one of the main stories. Two types of texture are most prominent:
1. Brocade Fabrics - traditional damask weaves and Venetian brocade patterns that will move toward tapestry fabric effects by summer 2008.
2. Fabric Encrustation - huge cabochon*, square glass and crystal jewels; you will also see beads, or sequins which all add depth and surface texture.
*Cabochon is a gemstone that is polished rather than cut.
Above left - Emma Somerset Autumn/Winter 2007 - Occasion Wear - Brocade puff sleeve coat £325 and shift dress £99 by Oky Coky. Printed bangle £28 by Emma Somerset.  OkyCoky is collection from the Spanish design duo Geli Torres and Sandro Portela.