A wedding is an occasion of great importance in all parts and cultures of the world. It is a ceremony to celebrate a marriage or civil union, and it's always celebrated with great fun and festivity. A wedding ceremony is usually comprised of several wedding traditions and customs that vary greatly between cultures, ethnic groups, religions, countries, and social classes.
A traditional wedding is always a nice expo of culture and customs of a place. It's always considered incomplete without the typical wedding dresses that reflect the culture & heritage of a place. A wedding dress is traditional clothing that is usually donned by a bride or a groom.
The colors, styles and ceremonial importance of wedding dresses depend on the respective religions and cultures of brides and grooms. Wedding dresses broadly include grooms' wedding dresses and brides' wedding dresses or bridal dresses. This article will be broadly focusing on the different wedding dresses including brides' as well as grooms' wedding dresses popular in different cultures, and societies of India and Pakistan. Generally the brides and the grooms in both countries wear the dresses that help presenting them in the most favorable light.
Pakistan is a country located in South Asia and the Greater Middle East. The country was part of India before 1947, so there is close cultural affinity in both the countries. The wedding dresses and culture of Indian Punjab is almost similar to that of the Pakistani Punjab. The wedding dresses of Indian Muslims are almost similar to the wedding dresses of Pakistani Muslims. Hindus, Christians, and Sikhs are in meager minority in Pakistan however they follow the same wedding customs and trad
itions as followed by Indian Hindus and Sikhs.
India is the country of many religions, cultures, and ethnic groups. There are different styles of wedding dresses popular in different parts of India. The North Indian wedding dresses are utterly different from the South Indian, and the East Indian wedding dresses.
Wedding Dresses For Grooms—The South Indian grooms' traditional wedding dress includes traditional "veshti" or "vetti" (dhoti) and "kurta". A Dhoti is a traditional garment of men's wear in India. It is a rectangular piece of unstitched cloth, usually around 5 yards long, wrapped about the waist and the legs, and knotted at the waist. Dhoti is called "Laacha" in Punjabi, "mundu" in Malayalam, "dhuti" in Bangla, "vetti" in Tamil, "pancha" in Telugu, "dhotar" in Marathi and "panche" in Kannada. A kurta is a traditional item of men clothing. It is a loose shirt falling either just above or somewhere below the knees of the wearer. It's also worn with salwar, and churidar. The South Indian grooms also wear their traditional caps with veils of flowers.
The North Indian grooms' and the Pakistani grooms' traditional wedding dress includes traditional "sherwani" with a "churidar pyjama," a "bandha gala" suit. Sherwani is a long coat-like garment worn in South Asia. It's very similar to an Achkan or doublet. Sherwani is worn by Punjabi, Hindu, and Muslim grooms. It is worn over the Kurta with Churidar, Khara pajama, or a salwar. "Churidar" is a tight-fitting variant of a salwar. Pajama is a parallel fitting variant of Salwar. A Salwar is loose pajama like trousers that is wider at waist and thighs, and tapering to the bottom, it is stitched narrow at the bottoms. Indian and Pakistani Muslim grooms' traditional wedding dress includes "Salwar Kamiz" and "Sherwani."
In fact Salwar Kameez is the males' national dress of Pakistan. It's very popular among Pathans, Khans, Balochs, etc. It's also very popular among Afghanis. "Salwar Kamiz" and "Sherwani" is very popular male wedding dress. Silk or any other similar level textile is the most preferred textile for wedding Salwar Kameez. High quality fabric is used f
or Sherwani. Indian as well as Pakistani Muslim grooms also wear Mohammedan caps on their heads. Some Hindus wear caps and some wear turbans, but Punjabi grooms wear turbans. The North Indian grooms set forth to their weddings adorned with a "sehera," a veil of flowers tied to the turban, to screen their faces from the evil eye. The Punjabi dress up like royal kings and sometimes wear plume on their turbans. They also hold swords like princes. The Indian Christian grooms normally wear western style suits.
Under the influence of west most of the Indian and Pakistan males have started wearing western style suits as their wedding dresses. Three-piece suits and western style suits are pretty popular grooms' wedding dresses in India and Pakistan. Usually Silk or superior quality textile is used to tailor Indian grooms' wedding dresses.
Wedding Dresses For Brides— Sari is women's national dress of India. Sari is the most popular bridal dress that is worn by most of the Indian Hindu brides. Sari or Saree is several yards of light textile that is draped around the body. Expensive sarees are worn as bridal dresses by most of the south Indian brides and the North Indian Hindu brides. Mostly Silk sarees or other richly embroidered opulent and expensive sarees are preferred as bridal dresses. Usually, maroon, magenta, pink, and red are popular traditional colors in Saree bridal dresses. The South Indian brides also wear their traditional headdresses or headgears.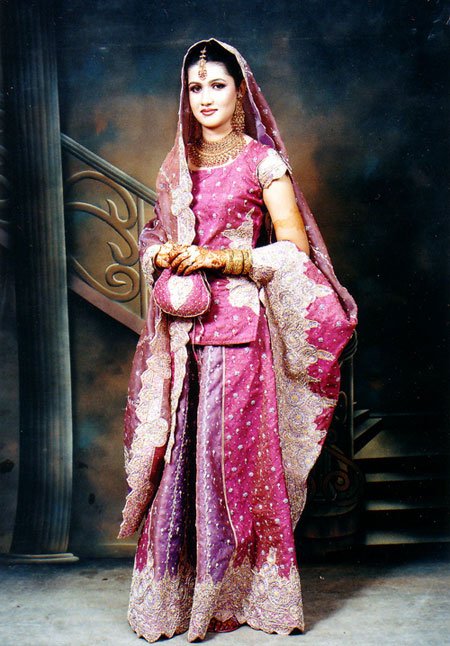 "Ghagra Choli" is also worn as bridal dress in some parts of the North India. Ghagra Choli consists of a long skirt and short blouse with a long scarf known as a "dupatta" draped around the bride. It's known as "Lehenga Choli" in Punjab and Haryana.
Indian Punjabi brides usually wear "Lehnga Choli" or "Ghagra Choli" and "dupatta". The traditional colors of maroon, burgundy, pink, red or wine shades are generally the popular choices in "Ghagra Choli". The Punjabi brides also wear "salwar kamiz" that are popular called "Punjabi Suit". Red shades usually dominate the Punjabi bridal dresses. The Punjabi brides usually wear "Punjabi Juttis." Punjabi style shoes in their feet. Usually silk or some other very superior quality textile is used for bridal dresses.
"Lehnga Cholis" or "Ghagra Cholis" are popularly worn by the Pakistani brides. Punjabi suits (salwar kamiz) are also worn by many Pakistani Punjabi brides; however some of the traditional Pakistani Punjabi Muslim brides do wear "burkahs" or pardah in place of "dupatta". Kurti is also worn by some of the traditional Pakistani brides. Kurti is male kurta like traditional piece of clothing worn by women in northern India, Pakistan, and Afghanistan.
Indian as well as Pakistani Christian brides usually wear expensive wedding gowns or western style wedding dresses. Traditional color of the western wedding dresses in white. 'White' or 'wedding white' includes creamy shades such as eggshell, ecru and ivory. The Christian brides in both the countries wear stylish western high heel sandals
Traditionally, Indian and Pakistani Brides are required to keep their faces hidden in veil. In most of the liberal societies in India, just covering head with dupatta or an end of saree is sufficient, but the traditional Pakistani societies just required the brides to keep their faces hidden. Indian and Pakistani Bridal dresses have excellent embroidery works at necklines and front hems. Some expensive bridal dresses carry rich embroidery of gold or silver fibers. Indian and Pakistani Bridal dresses are sometimes nicely embroidered using beads and sparklers. Indian and Pakistani Bridal dresses also include rich expensive jewelry.
You can get Indian and Pakistani wedding dresses tailored from some expert tailors, or you can buy "Ready To Wear" Indian and Pakistani wedding dresses from some fine Indian wedding dress stores and Pakistani wedding dress stores. You can also buy Indian and Pakistani wedding dresses online. There are numerous online wedding dress stores selling fine Indian wedding dresses and Pakistani wedding dresses online. Doing some research on Internet, you can also find cheap wedding dresses, discount wedding dresses, beach wedding dresses, plus size wedding dresses, informal wedding dresses, casual wedding dresses, vintage wedding dresses, and designer wedding dresses.
By : Phie